Are you rady for tastiest read to-date?
Just because you are living life on the road doesn't mean you have to eat poorly! In fact, travelling in a motorhome is a great time to try some new recipes. You have a kitchen with you everywhere you go, and what better way to eat lunch than with a view of snowcapped mountains?! Here are 3 quick and easy meal ideas, excerpt from a book entitled Les Recettes du Campeur, that you can make during your motorhome trip.
These simple lunch and dinner recipes are healthy, easy to make and delicious and all our motorhomes are fully equipped with necessary kitchenware. There is a great dessert at the end of the list as well, make sure to try that one! :)
Ready to begin your culinay adventure on the road?
PS : Try and buy as much as possible from the farm fresh produce that is seasonal and local as you drive through all the regions of France.

Preparation : 15 min

Cook : 40 min

Fresh produce

> 4 chicken thighs

> Handful coriander leaves

>

3 teaspoons ground curry

> 50 cl cold water

>

2 tablespoons green olives

> 4 preserved lemons

> Olive oil

> Salt, pepper
1 Peel and chop the onions and garlic cloves. Quarter the lemons, remove pulp and cut skin in strips.
2 Heat oil in heavy skillet. Add chicken, and brown on all sides. Add onions and garlic cloves to skillet, and cook over medium-low heat about 10 minutes, until lightly browned. Mix salt, pepper, chicken stock, water and spices. Pour over chicken.
3 Scatter with olives, parsemed lemons and raisins. Mix. Cover skillet. Place over low heat, and cook about 30 minutes, until chicken is done.
4 Scatter handful coriander leaves on top, and serve with rice.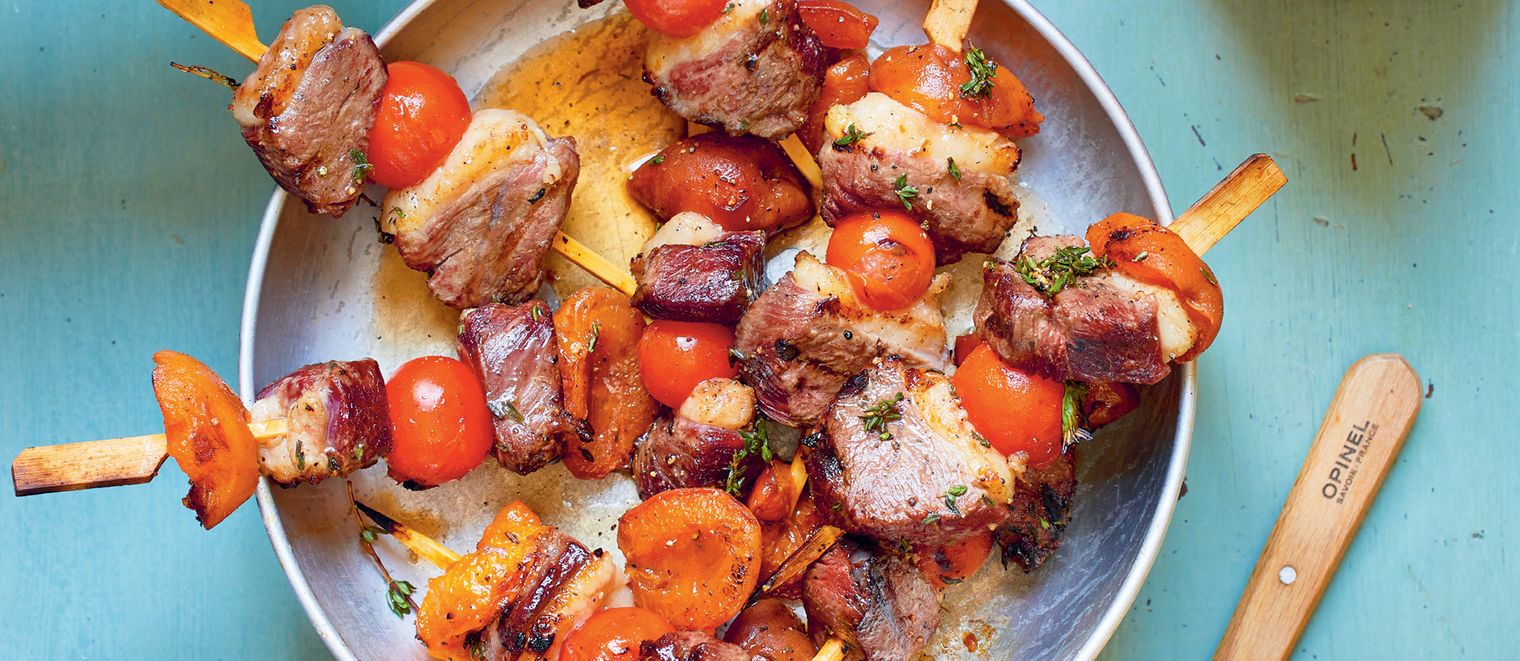 SERVES 4

Preparation : 20 min

Cook : 10 min

Fresh produce

> 2 duck breasts

> 12 apricots

> 10 cl orange juice

> 2 tablespoons ketchup

> 1 tablespoon mustard

> Casserole dish
1 Bring the orange juice to a boil in a saucepan. Reduce heat to medium-low and simmer until the sauce has reduced to half of its original volume, about 30 minutes. Mix mustard, ketchup and honey. Bring mixture to a simmer and cook until reduced and thickened.
2 Cut each duck breast into about 8 cubes.
3 Using either metal or soaked bamboo skewers, thread a couple of cherry tomatoes and pitted apricots followed by a piece of duck. Continue until you have 4 pieces of duck on each skewer. Scatter thyme leaves on top
4 Add the marinade to the meat. Toss contents to completely coat the meat with marinade. Cover the meat with tea towel . Place the covered mixing in the refrigerator and let stand for 30 minutes. Cook for approx 8 min with barbecue
<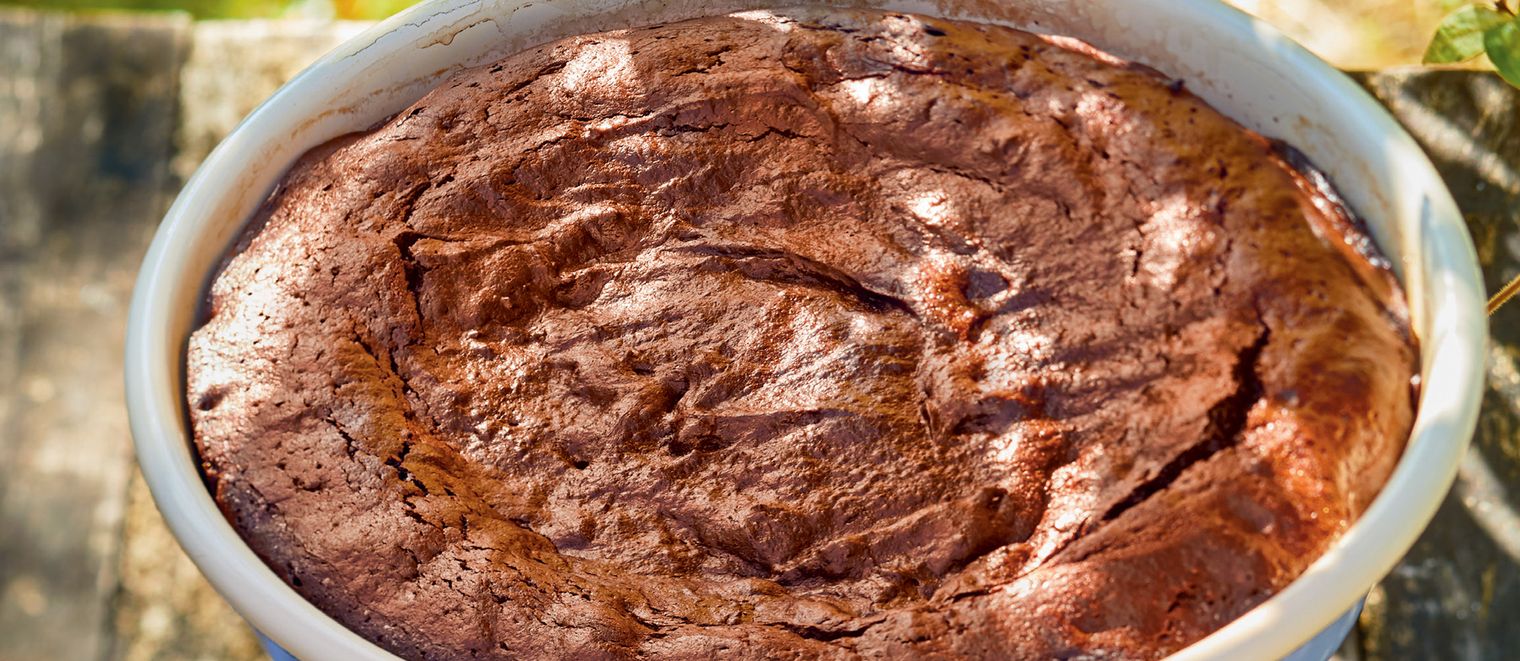 SERVES 6

Preparation : 15 min

Cook : 12 min

Fresh produce

> 60 g lightly salted butter

> 2 large eggs

>

1/2 packet of backing powder

>

60 g

unsweetened cocoa powder

> Skillet & cover
1 Combine butter, cream and the chocolate in the skillet. Warm over low heat until butter has melted, then remove from heat.
2 W hisk in eggs, followed by sugar. Add chocolate, flour, cocoa powder and baking powder. Continue whisking until smooth and well combined.
3 Grease skillet with butter . Transfer batter to skillet. Cover skillet. Place over low heat, and cook about 10 minutes. Enjoy lukewarm.
With over 80 fabulously tasty recipes you can cook, Les Recettes du Campeur is the dashboard bible for anyone who ever dreamed of hitting the road at the wheel of a motorhome PS : Thanks Pauline !
LES RECETTES DU CAMPEUR
Publishing house : Larousse
Collection : Hors collection Cuisine
Release date : 05 june 2019
EAN : 9782035972507
Recipe credits : Pauline Dubois
Photo credits : Fabrice Veigas
Discover our other motorhome travel tips
Our leitmotiv at AVIS explore is to help you enter the wonderful world of motorhome travel and to make you a seasoned motorhome traveler from your very first experience with AVIS explore! Discover our selection of motorhome travel tips to prepare your next motorhome exploration!