Dreaming of your next vacation? By renting a motorhome in Corsica, escape and wonder will be there. All RVers want more!
Corsica fascinates first of all because of its extraordinary and preserved nature. Vertiginous cliffs plunging into the sea, villages clinging to the mountainside, gorges carved in stone, hills carpeted with chestnut and olive trees... A masterpiece of nature, this small island is not like the idea of the Mediterranean islands. In fact, no other Mediterranean island is as green as Corsica. It's always the good season to discover Corsica. Take the wheel of a motorhome to experience a great moment of escape.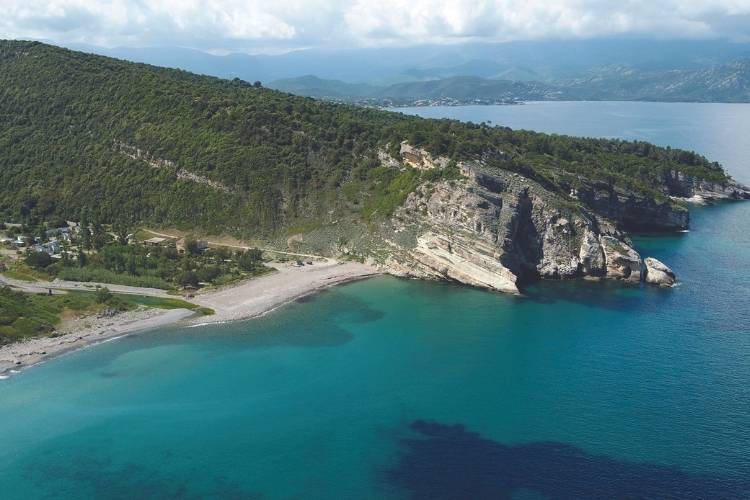 Your motorhome in Corsica
Need to get away or travel with your family in complete freedom, treat yourself to a stay in Corsica by renting a motorhome to experience a great moment of escape. Thanks to the motorhome, the discovery of Corsica can begin at your own pace and without constraint. Renting a motorhome in Corsica is the solution offering you the keys to freedom. Enjoy panoramic views and visit the most beautiful sites in Corsica in unparalleled comfort.
Visiting Corsica in a motorhome is therefore the dream road trip for any motorhome owner! The good news is that you can cross the Mediterranean by plane or ferry without worrying about managing a motorhome! Hire it in Corsica from AVIS explore in Ajaccio. Leader in motorhome rental, AVIS explore invites you to discover its vehicles in its Corsica agency located in Alata, about twenty kilometers from the city center of Ajaccio. Plan to book it online beforehand. Discover all the comfort offered by these modern, ready-to-go vehicles.
Renting a motorhome in Corsica is the ideal solution to discover the island from north to south, without having to plan your accommodation. Pack your bags in your rental vehicle, then set off to explore the island, stopping wherever suits you! Many motorhome areas are set up all over the island to offer you maximum freedom.
Be careful, almost all of the island is in a protected natural area and the basis of its positioning is to be the green island of the Mediterranean. The regulations encourage good practices and say no to wild camping.
A golden rule should be observed in Corsica: wild camping is strictly prohibited there, respect for the environment is essential.
More about wild camping in Corsica.
Why motorhome owners love Corsica? A small jewel of the Mediterranean, the natural wonders of Corsica have it all. But that's not all: as a motorhome owner, you will appreciate the fact that there are no motorways in Corsica. You can drive in peace, without having to stop at tolls and take out your wallet. Just be vigilant, enjoying the scenery during your stops!

Our driving tips: You might be wondering if you are capable of driving a motorhome in Corsica? The roads are often narrow, winding or steep, but don't worry: with a little practice, you won't encounter any difficulties. To enjoy your motorhome rental in Corsica more serenely, do not hesitate to choose a smaller motorhome or a campervan.
Your arrival in Corsica
Our motorhome rental agency in Corsica is located about twenty kilometres from the city centre of Ajaccio. Our local manager in Corsica proposes to organize a private transfer on your arrival in Corsica.
These transfers are possible from:
Ajaccio airport
Ajaccio port
Ajaccio train station
A hotel from Ajaccio or its surroundings
This service is payable directly on site. Its cost is 80 euros for a trip. If you are interested, please contact our motorhome rental agency in Corsica directly, communicating your arrival details.
Motorhome tour in Corsica over 3 days
Follow the guide for a 3-day trip between Ajaccio and Bonifacio in southern Corsica!
DAY 1 ●
AJACCIO by motorhome
Our small tour of Corsica in a motorhome begins in Ajaccio. As soon as you arrive, immerse yourself in the excitement of the Place Abatucci market. What happiness! The city, marked by the presence of Napoleon Bonaparte, is full of surprises.
Park your vehicle in a motorhome area in Corsica provided for this purpose thanks to the good deals of Park4Night or in an address taken on CaraMaps suitable for motorhomes and vans.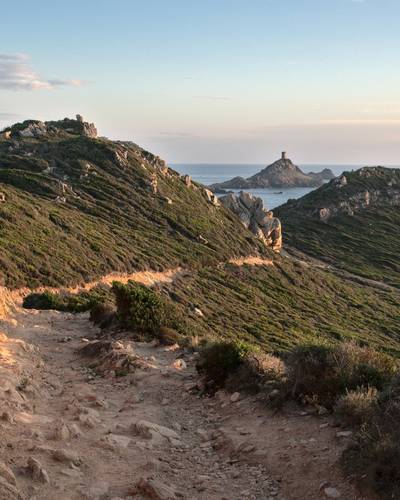 DAY 2 ●
Our secret corners between AJACCIO and BONIFACIO
Take the powder and head off to discover the most beautiful beaches in Corsica. Direction Sartène via the N196 and Propriano via a cliff road:
Join the D55 to cross picturesque seaside villages like Porticcio.
Take the D155 to reach Pointe de Castagna, Capo di Muro, Cala d´Orzu and Cala Cigliu at Capo Nero.
Walk along the ledge overlooking the Bay of Cupabia and join the Taravo and Pont valley, take the D175, follow the coast of the Gulf of Valinco.
End with the N196, you arrive at Propriano.
Then take the D121 to the sublime Belvedere-Campomoro.
Return to Sartène on the N196 and take a look at the Agriates and the prehistoric sites of Palaggiu and Cauria.
Continue to Roccapina and the Lion Rock, walk along the bay of Figari and the Gulf of Ventilegne to descend to Bonifacio.
DAY 3 ●
Tips for visiting BONIFACIO in a motorhome
This exceptional site has a prestigious citadel which dominates limestone and granite cliffs. Dare to take boat trips and climb the King of Aragon stairs to the top, it's incredible and unforgettable! Nevertheless, for a serene stay in a motorhome in Corsica or in a van, follow our tips:
Obey the speed limits and keep your safety distances (50 meters).
Be careful on the winding and steep roads, be patient, Corsica can be savored peacefully.
Avoid the period from July 15 to August 15 (traffic jams).
Favor overnight stays in a motorhome in the parking lot overlooking a sublime cove, this is offered by Park4Night in Bonifacio.
Discover spots with locals with HomeCamperin Corsica.
For a road trip in Corsica in a motorhome during a 7-day stay, here is a very prestigious itinerary.
Motorhome tour in Corsica over 7 days
DAY 1 & 2 ●
AJACCIO - CALACUCCIA
Arrival at the airport. Transfer from Ajaccio to the agency. Last formalities before departure and explanations of how the vehicles work. Departure from the agency, direction the Calanques de Piana (UNESCO World Heritage site) then to Porto. The Calanques are a veritable park of mineral sculptures that blaze above the sea. Visit and lunch in Porto. If weather conditions permit, visit the Scandola reserve by boat. Then discovery of Evisa. End of the day and night in Calacuccia. Private garden with a superb view of the mountains (Monte Cintu range, Paglia Orba, Cinque Frati and L'Arinella) and the Lake of Calacuccia.
DAY 3 & 4 ●
CALACUCCIA - SAN GAVINO
Continuation of the journey and departure from Calacuccia to Corte, historical and cultural capital in the heart of the mountains in the centre of Corsica. Join Aléria and visit the Roman remains. Take the opportunity to have lunch. Departure to Sari-Solenzara. For the more adventurous, don't hesitate to explore the Piscia di Ghjaddu waterfall. Spend a few hours at the Col de Bavella, bristling with its mythical rock needles. End of the day and night at San Gavino de Carbini. Lodging in an adorable clearing overlooking the Bavella needles.
DAY 5 ●
SAN GAVINO - CONCA
Departure to the Ospedale lake and then Porto Vecchio. Enjoy the most beautiful beaches of the east coast. Lunch on the spot. Enjoy a digestive stroll to visit the old town. Discovery of Saint Lucia from Porto Vecchio. Drive to Conca. Night in a private campsite in front of the sea and in the immediate vicinity of beautiful creeks.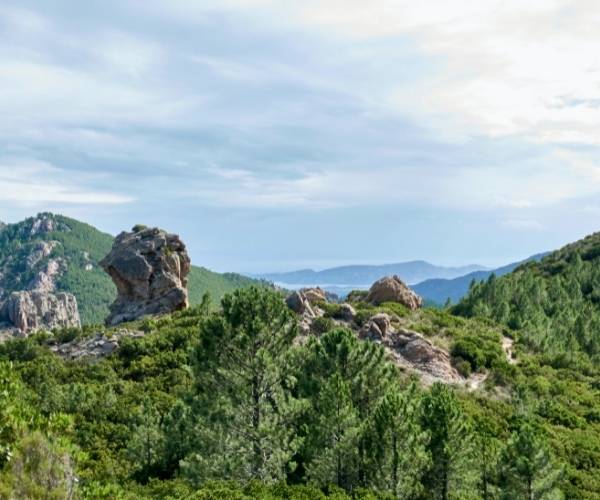 JOUR 6 & 7 ●
CONCA - AJACCIO
Departure from Conca, to Bonnifacio. Walk down the 187 steps of King Louis Aragon and have lunch. Stroll through the pretty lanes of the city then direction Sartène. Take advantage of these last moments to visit the sites of Cucuruzzu and Capula. Return to the agency in Alata. Once the vehicle is returned, transfer to the airport. Check-in formalities then flight to your departure airport.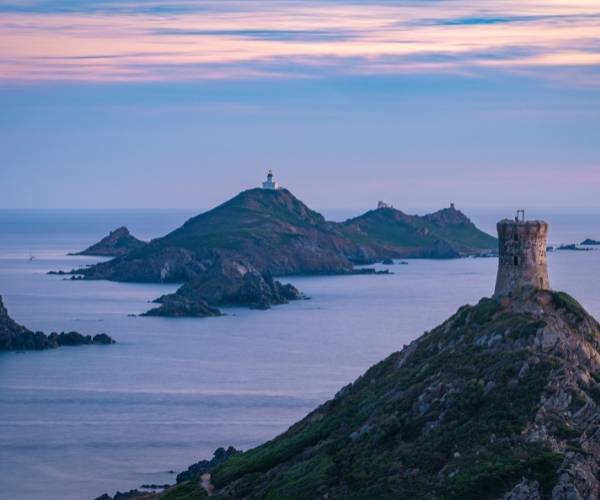 Our motorhome models in Corsica
To adapt to the geography of the island and your requirements, the Avis Car-Away agency in Ajaccio offers a selection of motorhomes from its Classic range:
The Pilote P726P: This streamlined model easily accommodates a family of 5 or a group of friends. Take advantage of the drop-down bed and the dinette bed to organize sleeping arrangements. Its large living room, ideal for your convivial moments, is a pleasant space to see the landscape pass by through the window.
The Pilote P696S: this streamlined model is exactly what you need if you are going with 6 people. The space is optimized to provide a pleasant living space. With 2 single bunk beds, a drop-down bed and a dinette bed, each has its own sleeping area.
The dimensions of these motorhomes are perfectly suited to travel the winding roads of Corsica. For your motorhome rental in Corsica, make your choice on our presentation page of our vehicles!
If you want to visit the island by van, find all our advice on our article dedicated to van rental in Corsica.
Discover our selection of motorhome travel destinations
It is decided for your next escapade it will be in motorhome but you still hesitate where and especially which route to plan to make your road trip a success. Discover our selection of motorhome travel destinations from our agencies everywhere in France : Aix Marseille, Ajaccio, Basel Mulhouse, Bordeaux, La Roche sur Yon, Lyon, Montpellier, Nantes Rézé, Nice, Paris, Rochefort, Strasbourg, Toulouse