Do you dream of traveling through snowy landscapes? To discover the most beautiful Christmas markets in the East? A winter getaway in a motorhome is ideal for traveling the roads in peace. Do not worry about winter temperatures: with a bit of preparation and good insulation, you are not likely to be cold during your winter holidays. Here are our tips for choosing the best motorhome for winter.
Snow tires
Before leaving, you must plan either:
a pair of metal snow chains;
a pair of snow socks;
four winter tires.
Since November 1, 2021, the Mountain Lawin France has required the use of special equipment in 48 mountainous departments. You will need:
in the Massif Central, the Jura Massif and the Vosges Massif;
in the Pyrenees and in the Alps;
in Corsica.
In winter, your motorhome must be equipped with four winter tires, unless you have chains or snow socks to equip two-wheel drive.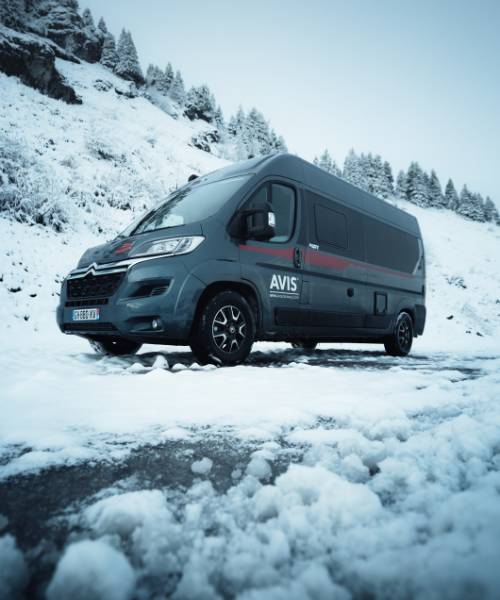 What are the essential equipment in your motorhome in winter?
As you will have understood, it is impossible to ignore winter tires or their equivalents. Don't forget your scraper, essential for clearing the windshield.
Provide enough gas to cover your heating needs. AVIS explore motorhomes are rented with two gas cylinders, plus an optional third to cover any eventuality. If you stop in a snowmobile, you can certainly get an emergency tank.
Finally, good management of the waste water tank will allow you to avoid problems related to freezing. We recommend leaving your valve open, placing a bucket under it if necessary.
Why is the insulation of a motorhome for the winter sufficient?
It is possible to maintain a temperature of around 20°C in your motorhome, even when it is very cold outside. The Avis fleet has motorhomes that are perfectly suited to winter. To cope with the winter cold, our vehicles meet manufacturers' standards, thanks to:
efficient heating;
quality insulation in the walls and floor;
keeping the water and gas networks frost-free;
hold insulation;
double glazing.
What is the best motorhome choice for winter?
During your winter escape, you will need to recharge your batteries in a warm refuge. The best motorhome for the winter is a streamlined motorhome, to benefit from optimal comfort. Their pleasant living environment extends over approximately 7 meters. Take into account the quality of the insulation to spend your winter holidays in a motorhome.
If you have to postpone your outdoor excursion to the next day, don't worry: a day inside your motorhome will quickly pass! AVIS explore offers many models of motorhomes to try out for rental.
How to heat a motorhome for the winter
To be warm in your motorhome in winter, choose a motorhome equipped with integrated central heating. The consumption of this system is rather high, but the result is homogeneous and very efficient. Some systems can even be programmed or activated remotely.
To quickly warm up the atmosphere of the room, you can also connect an auxiliary heater to a 230 volt socket. All you have to do is heat the water for the shower thanks to the high-performance water heater in your AVIS explore motorhome.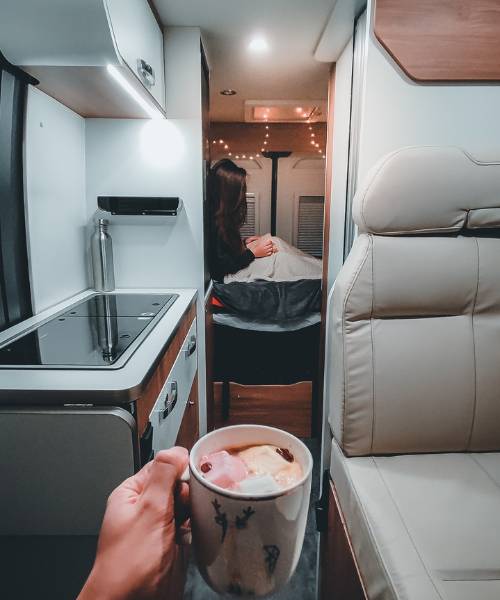 Where to stay in a motorhome in winter
To take full advantage of winter sports on a lower budget, book your place in Caravaneige. These mountain campsites remain open during the winter season and offer all the amenities necessary for your stay. In the early morning, from your cozy nest, contemplate the awakening of a nature sublimated by a delicate veil of frost...
The destinations to favor in motorhome in winter
Your motorhome is now ready to spend the best of winters! The most beautiful winter destinations are waiting for you:
Discover our other motorhome travel tips
Our leitmotiv at AVIS explore is to help you enter the wonderful world of motorhome travel and to make you a seasoned motorhome traveler from your very first experience with AVIS explore! Discover our selection of motorhome travel tips to prepare your next motorhome exploration!