Do you dream of exploring different regions and traveling the roads? Then a motorhome vacation should be right up your alley. In order to take the time to enjoy it, there is nothing like a long-term motorhome rental.
Long-term motorhome rental: from what duration and for what advantages?
Taking a vacation is always a pleasant time to disconnect, provided you leave long enough. By choosing to rent a long-term motorhome, you can go where you want and have time to visit many regions. At AVIS explore, a discount is granted on rentals of 3 weeks or more. The latter is calculated automatically on the site when booking.
How to prepare your long-term motorhome rental?
When renting a motorhome by the month, you can prepare the route in broad outline but do not need a precise and fully established program. The advantage of this type of rental? The possibility of moving around according to your desires and above all taking your time. This trip without pressure and without constraint will be an opportunity to disconnect and give way to the unpredictable, something that can be more complicated on a daily basis. If you absolutely want to do a particular visit or activity, remember to find out a little in advance to be sure you can do it.
Also think of a clever solution to optimize your travel time: one-way rental. You don't have to return to where you started and can make the most of your vacation time to explore!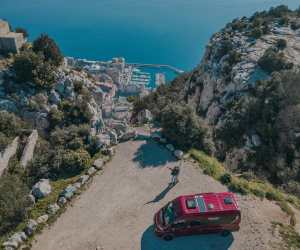 With a monthly motorhome rental: the range of possibilities is endless
At AVIS explore, we have agencies all over France. This allows everyone to find an agency closest to their home in order to make their rental easily. For a trip to Gironde, rent your vehicle in our Bordeaux agency then go to Dordogne or Corrèze to discover the wonders of these regions such as Vézère or the small town of Brive la Gaillarde. For a road trip in Brittany, leave from Nantes then visit the cities of Loire-Atlantique, such as Guérande or Pornic, and then head to Saint-Malo or the Pointe du Raz. If you wish to leave Ile de France, the Rueil-Malmaison agency welcomes you and offers an ideal starting point to venture into the Vexin, the Chevreuse Valley or the unmissable Disneyland Paris amusement park. To visit the east, make your rental in the Strasbourg agency. You can easily go to Colmar, in the Vosges and even take a short trip to Germany at the thermal baths of Baden-Baden.
Be accompanied by a travel expert to organize your long-term trip in a motorhome
Don't have time to prepare for your trip? Don't panic, you can trust Voyage Enjoy, partner of AVIS explore. Experts will take care of creating a tailor-made trip according to your desires and your budget. In order to benefit from it, you just have to choose the "Personalized travel diary" option when booking your vehicle. You then complete a questionnaire and will be contacted by the experts.
Take the time to truly disconnect with a monthly motorhome rental. You will enjoy maximum freedom.
Looking for more great deals?
Discover the other travel tips prepared by the AVIS explore team to help you organize your next road trip with your motorhome or rental van