Going to the motorhome or recreational vehicle show is a bit of a taste of your vacation on the roads. Conversely, after your escapades in a recreational vehicle, you might want to prolong the pleasure by comparing with new models.
This summer, you may have been seduced by the way of life of your fellow camper van owners, or by your camper neighbors in a campervan… Are you feeling the call of the open sea? Taste the freedom by setting out to discover France and Europe. Throughout the year, you can treat yourself to a motorhome or van getaway whenever you feel like it.
The shows and their promises of escape on four wheels await you...
When is the motorhome fair?
The Leisure Vehicle Show (called SLV) is held generally the last week of September, but for 2023 it takes place from 7 to 15 October at Le Bourget near Paris. At the end of September, indulge your passion for motorhomes in a rural atmosphere: head to Chantilly at the North of Paris for the Camper Van weekend.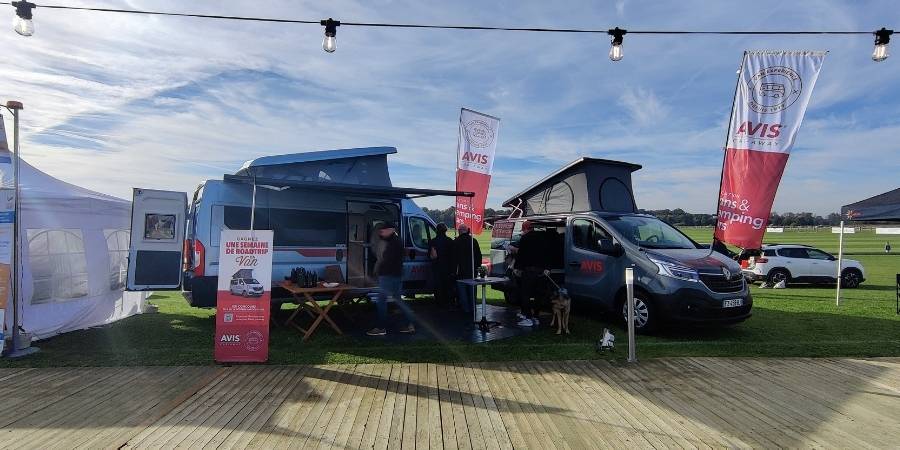 The most experienced among you will not hesitate to travel to Düsseldorf to attend the Caravan Salon. This event takes place every year during the last week of August. Next year it will start on August 26 and end on September 3.
Other motorhome fairs take place in Rennes, Lyon and Douai between October and February. While waiting for your show, we invite you to discover AVIS explore's leisure vehicles for hire.
How do I get to the motorhome fair in Düsseldorf?
One hour north of Cologne and 6 hours from Paris by car, Caravan Salon Düsseldorf is the perfect opportunity for an extended weekend in Germany.
Some road companies offer a quick night bus trip: board at Paris - Bercy, then keep an eye out a few kilometers from the Düsseldorf motorhome fair! The train remains the fastest option: around 4 hours for the best options, with a connection in Cologne or a direct trip.
When will the Recreational Vehicle Show take place?
The Leisure Vehicles Show (SLV) is taking place at none other place than whaere takes place the famous Paris Air Show at le Bourget. It takes place every year between the end of September and the beginning of October. This year, the show will be open every day from October 7 to 15, from 10 a.m. to 7 p.m., non-stop.
Everything you need to know about the Le Bourget motorhome show
The Leisure Vehicule Show is an unmissable event. It is celebrating its 57th edition this year, to the delight of motorhome owners and other lovers of fitted vans, vans and caravans. In the world of leisure vehicles, it is one of the largest gatherings in Europe, with 160 stands, 55,000 m² of exhibition space and around 100,000 visitors each year.
Camper Van weekend: the meeting place for vanlifers in Chantilly
The Polo Club of the Domaine de Chantilly welcomes you in a relaxed atmosphere. Entertainment awaits you on Friday evening and Saturday evening, to forge links between motorhome owners. 1 hour from Paris and Amiens, many vanlifers come to enjoy the festive and friendly atmosphere of the Camper Van weekend in Chantilly.
Motorhome fairs in the region
In Brittany, the Rennes Motorhome Show is the November meeting not to be missed. Near Lille, the Douai motorhome fair awaits you at the end of October. To the east, go to the Lyon motorhome fair in October (Saint-Priest) and February (Eurexpo).
Do you want to try a vehicle that you have seen at the show? Contact our agencies located throughout France to try out your next adventure companion.
Discover our other van life tips
Always eager to accompany you in the organisation of your next van road trip, AVIS explore wants to share with you all the tips and answer your questions to live your best van life with an AVIS explore rental van. Discover our selection of van life tips just for you !