FULLY TAILOR-MADE MOTORHOME HOLIDAY EXPERIENCES - ULTRA-FLEXIBLE MOTORHOME TRIP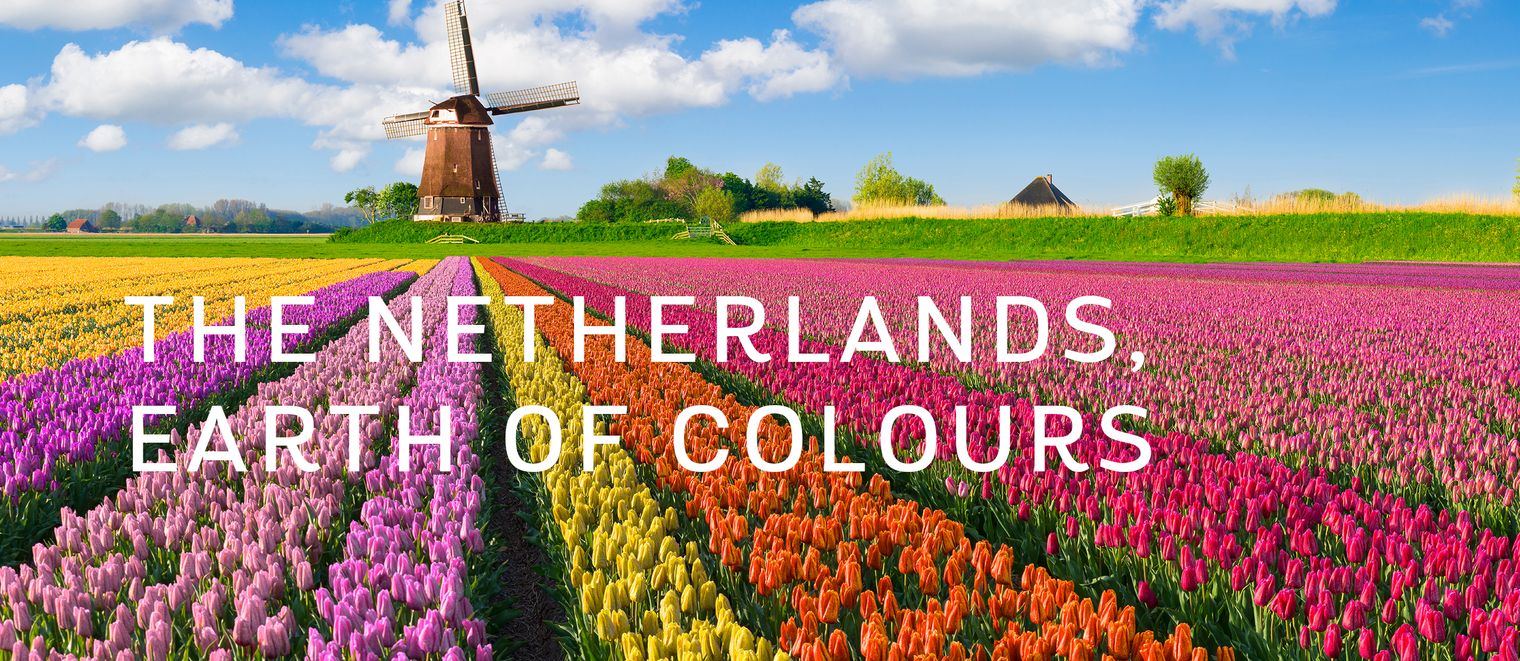 Individual suggested example - 13 days from 3159€ depending on season, host locations and activites.
Indulge yourself with a custom made journey by one of our experts with Le MOTORHOME EXPERIENCE. Discover the Netherlands with Le MOTORHOME EXPERIENCE fully guided holiday, tailored to your needs. Our concept combines the must-see highlights of a destination with unique host locations. We have hand-picked host locations in key destinations to ensure you're comfortable at every stop. Beautiful landscapes, amazing experiences. We'll take you there.
---
When you think about Netherlands, you probably think of tulips, windmills and cheese. These and other icons can be found throughout Netherlands. Friesland and Zeeland are wonderful provinces for cycling tours, Noord-Brabant and Gelderland are the place to discover art by Vincent van Gogh, Bosch and other Dutch masters, and traditional cheese can be enjoyed in Limburg. In short: discover the most beautiful spots Holland has to offer ...you may offer you an experience like no other with less than 60€ per day.A series of unforgettable experiences awaits you in Netherlands.

Get your fill of fresh air and activities during your holiday in the Netherlands. The country is ideal thanks to its huge number of parks and nature reserves. Spending a family holiday in the Netherlands means your stay will be a total success
Tradition and innovation intertwine here: artistic masterpieces, centuries-old windmills, tulip fields and romantic candlelit cafés coexist with visionary architecture, cutting-edge design and phenomenal nightlife. During your holiday in the Netherlands you can enjoy luscious nature and the riches of its flora and fauna, from dunes to forests, lakes and heathland. You can go for cycles or walks, as the country is filled with high-quality cycle paths that are easy to use. Welcome to The Netherlands.
PRICE INCLUDES :
Motorhome Rental (All Adventure and Classic vehicle groups - upgrades are available - please call for details)
12 Unique host locations
Welcome Package
Roadbook (Explore your bucket-list)
No additional charge for 2nd driver
Unlimited mileage
Free parking for your car
No additionnal charge for dishes
No additionnal charge for your pet
4 Amsterdam City Pass
Not included: Flights, fuel, campground fees, meals, airport transferts, collision damage waiver, cancellation insurance, bedding kit, outdoor table and chairs, bike rack, sightseeing & personal expenses.
Paris, Marseille, Lyon, Nice, Toulouse, Strasbourg, Nantes, Ajaccio.
MOTORHOME ITINERARY :
Remember, we can tailor-make your holiday to suit your needs (duration, departure station, host locations, visits, optional items), contact our travel experts today.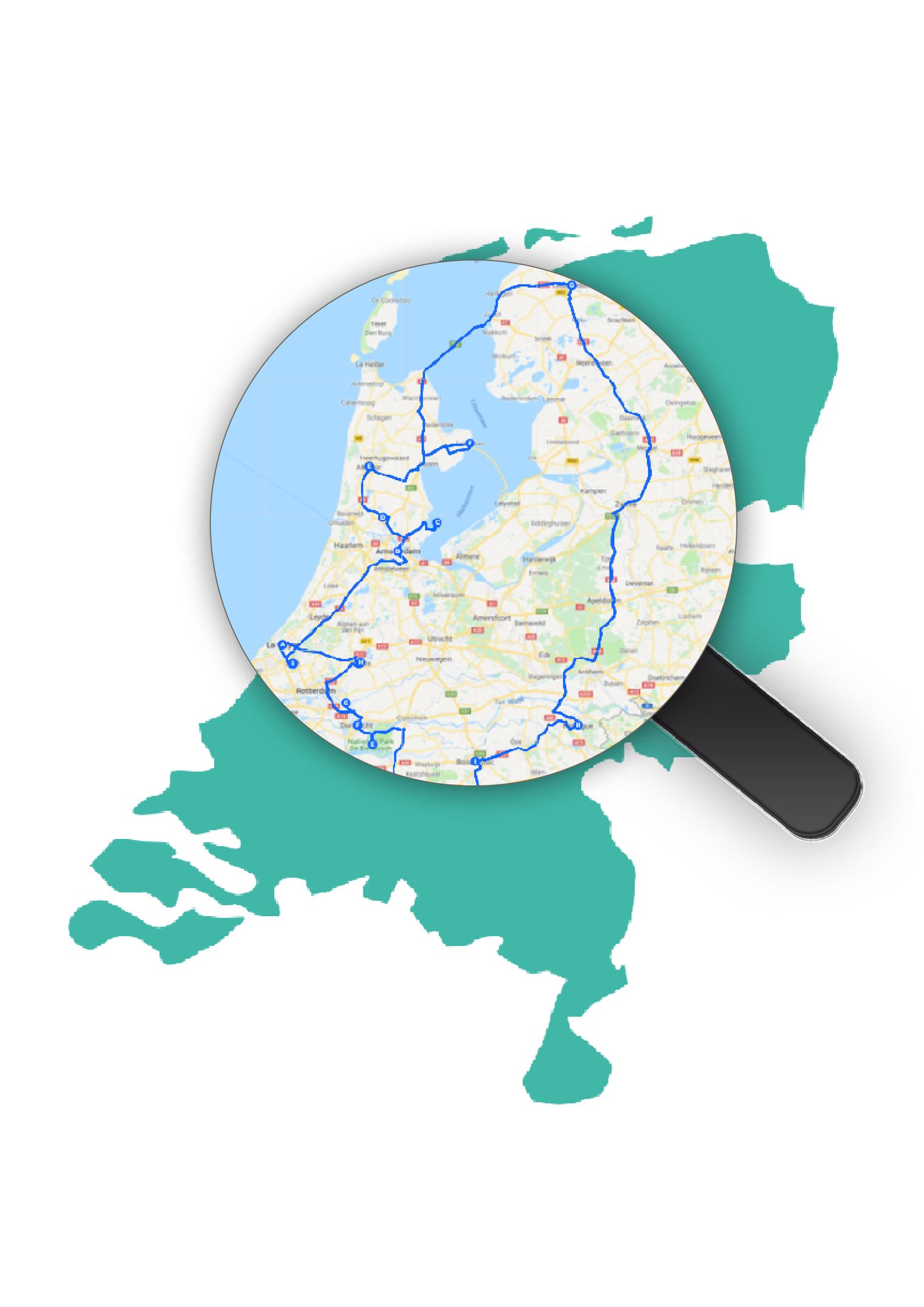 DAY 1 ●
CANAPLES
Collect your motorhome from our Marseille depot and begin your motorhome journey "The Netherlands, Earth of Colors" in Canaples.
DAY 2 ●
BRUGES
Bruges, once a flourishing trading centre, with its wealthy merchants' homes built lovingly and to last. Through time, the city is slumbered as a forgotten backwater, but its rich heritage and picture-postcard beauty could not remain hidden forever and inevitably Bruges was rediscovered as an unspoilt treasure. Visitors now flock to explore the cobbled streets and old guild houses in the Market Place, but it is The canals with their ancient humped bridges, that create its unique character and which earned it the title of the « Venice of the North ». Small enough to explore by foot, horse-drawn carriage or canal boat, there is much to see – museums and art flourish, good restaurants abound and pretty shops sell lace, Flemish tapestry, speciality beers and chocolates ...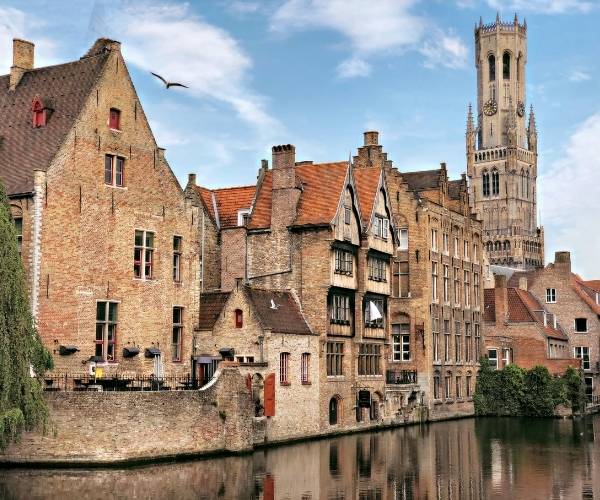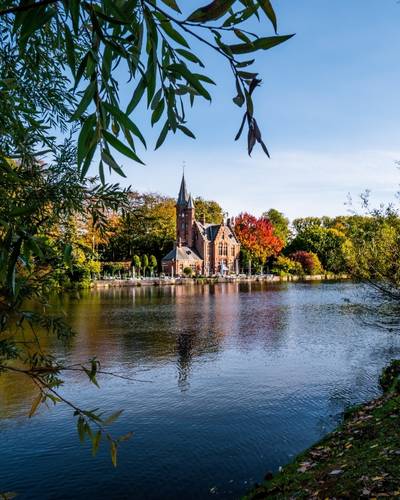 DAY 3 ●
BIESBOSCH - DORDRECHT - KINDERDIJK
At 8,000 hectares De Biesbosch is one of the country's largest national parks, and in summer the best way to see it is by canoe. Dordrecht is calling. Holland's eldest city is located on an island, surrounded by wide rivers. Around one thousand monuments, historic inner city harbours and a fantastic atmosphere determine the character of this age-old port. A visit to the stunning windmills at Kinderdijk, an authentic and iconic gem of Dutch History.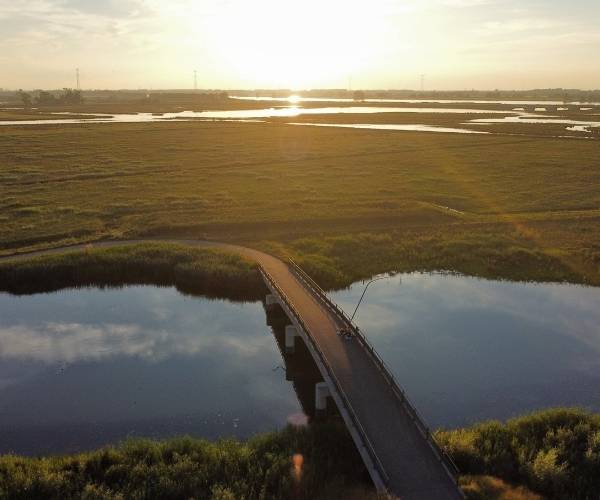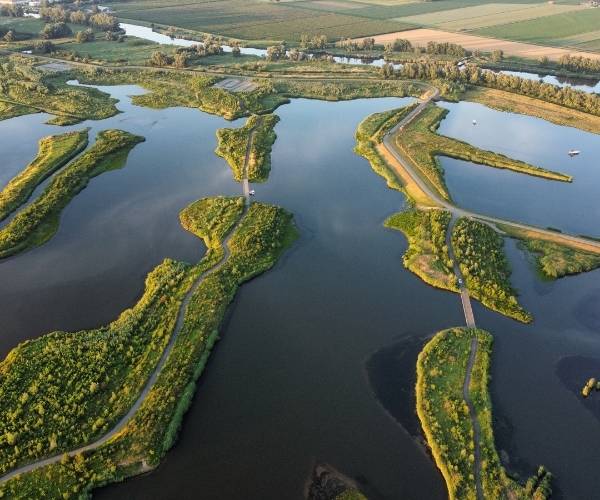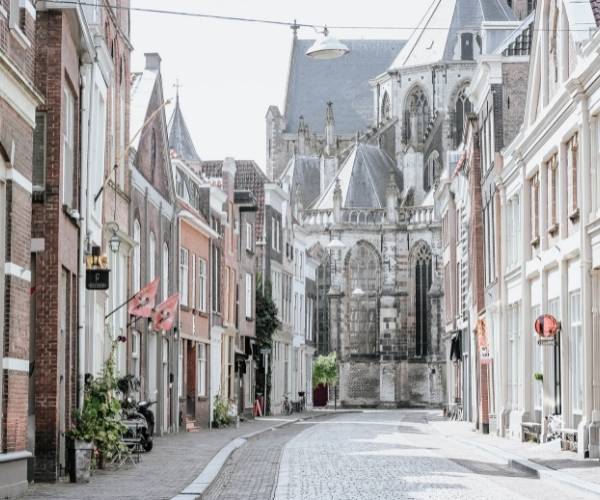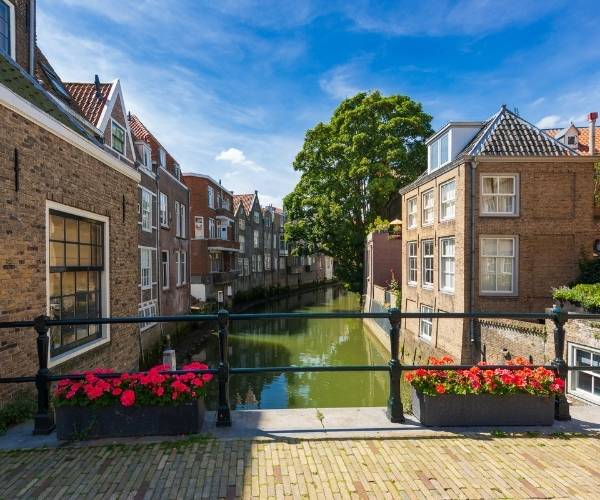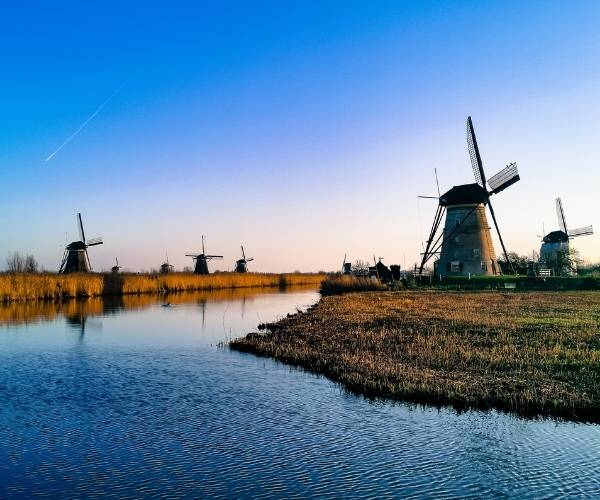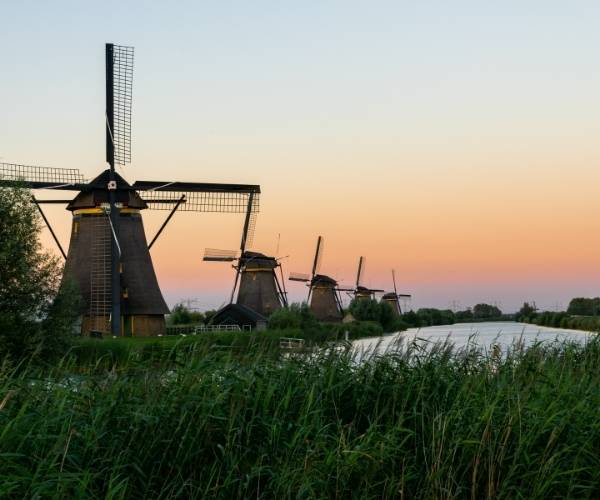 DAY 4 ●
GOUDA - DELFT - THE HAGUE
Although Gouda is known, predominantly for it's cheese there is a lot more to it than that. It is a very popular place for tourists due to it's beautiful array of old buildings that are mostly in the compact center, making it very easy to see them all and to enjoy the city. Visit Gouda. Rejoin The Hague. The Hague is one of the most extraordinary cities in Holland. Not just because it is our government city, but also because of its many monuments, historic districts and its location near the beautiful North Sea coastline. The Hague is also known as 'the Royal City by the Sea' and is called 'the residence city'.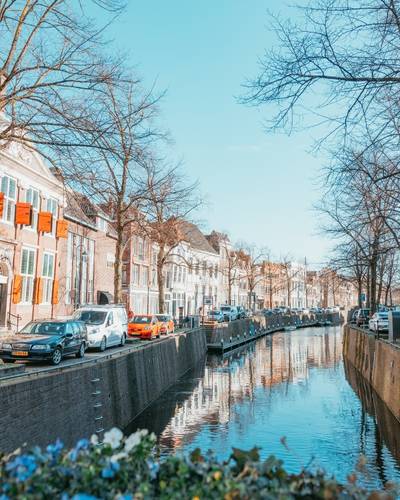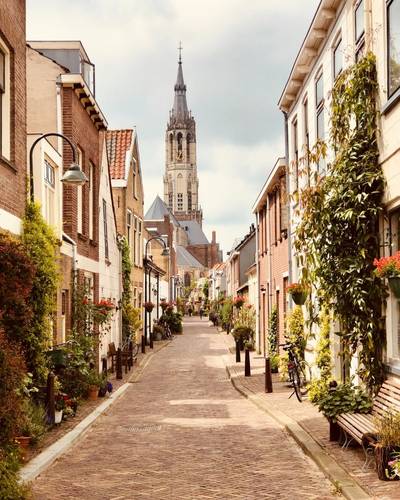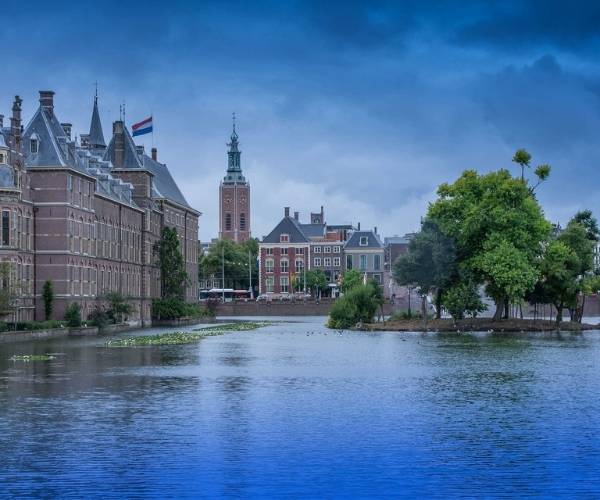 DAY 5&6 ●
AMSTERDAM
Explore this beautiful city. Amsterdam is the ideal walking city. You can explore its characterful streets at your leisure. Exceptionnal art is always close by, from small galleries to the worlclass Rijksmuseum and the Van Gogh Museum, both holding huge collections. You might choose to discover the interior of Anne Frank's house, rummage through the Waterlooplein flea market or relax at a café sipping a rich Dutch coffee and watching the locals trundle over cobbles along the canals on their high-handlebar bicycles.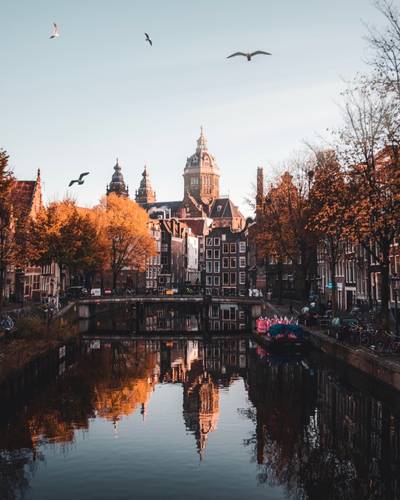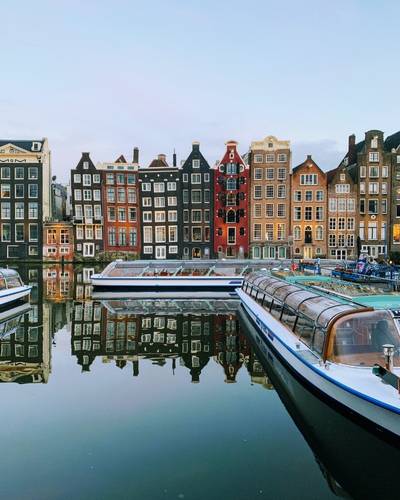 DAY 7 ●
MARKEN - ZAANSE SCHANS - ALKMAAR - ENKHUIZEN
The highlight of the next of this tour will be when you stand at the Marken lighthouse. If you wish to get an accurate impression of life in Holland in the 17th and 18th centuries, visit the Zaanse Schans. In this region, you will see authentic houses, windmills, a tinware factory, a cheese and dairy factory and other crafts. Both inside and out, the old Zaan style is visible. Discover Alkmaar. Enjoy a visit to the quaint port of Enkhuizen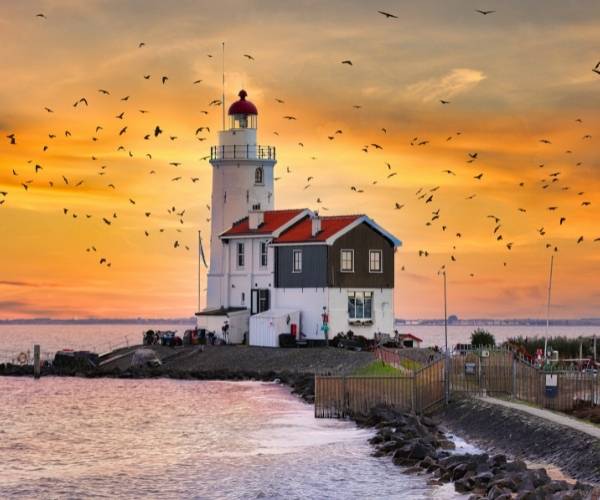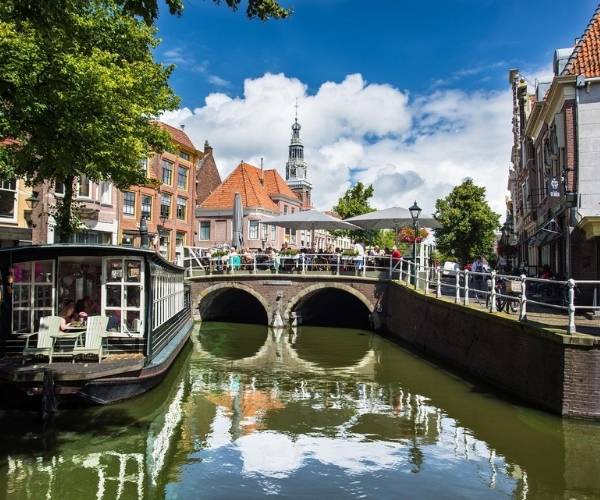 DAY 8 ●
LEEUWARDEN - NIJMEGUEN
The inner city of Leeuwarden is one of Holland's best kept secrets. It is the city in which the famous graphic artist M.C. Escher and the mysterious exotic dancer Mata Hari were born. Then it is a just short drive to Nijmeguen. The fortified city of Nijmegen, Holland's oldest city, will make you think you've gone back to Roman times. The city is full of magnificent historic buildings and centuries-old plazas, and is home to Holland's oldest shopping street, the Lange Hezelstraat.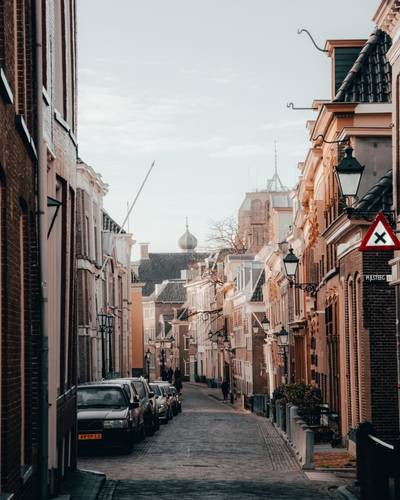 DAY 9 ●
DEN BOSCH - EINDHOVEN - HEEZE - THORN
s-Hertogenbosch, which we call Den Bosch these days, is a wonderful city full of historic buildings, wonderful museums, great shops and welcoming cafés and restaurants. Go for a stroll and discover the medieval architecture, take a boat tour of the centuries-old canal system, or go for a bicycle ride along the fortresses. Den Bosch has many beautiful attractions on offer. Even more importantly, it has a warm and welcoming atmosphere. Visit the Jheronimus Bosch Art Center. Spend some time enjoying the Van Abbemuseum in Eindhoven. Stop at Thorn; today it is a must-visit when you come to Holland. Thorn is known for its old white houses and monumental buildings.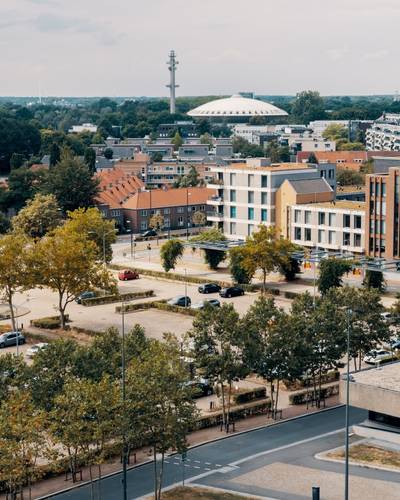 DAY 10 ●
SUSTEREN - HOENSBROECK - VALKENBURG AAN DE GEUL
Stop at Susteren. Drive to Hoensbroeck. Hoensbroek Castle is one of the largest and most beautiful castles in Holland. Hoensbroek is a castle museum which offers adventure hunts for children, and for adults, collections featuring fashions and objects dating back centuries. Now it's time to head to Valkenburg aan de Geul - a small community which has long been a real tourist magnet. People come here to discover the mines and caves with their drawings that date back to Roman times; another attraction is the Valkenburg castle from which you can observe the glorious landscape of Limburg.
DAY 11 ●
MAASTRICHT
Say hello to Maastricht. Maastricht is one of the oldest cities in Holland, as you will quickly discover when strolling through the historic inner city. Churches, city walls, monumental merchant houses and big squares merge seamlessly with a comprehensive and varied range of shops.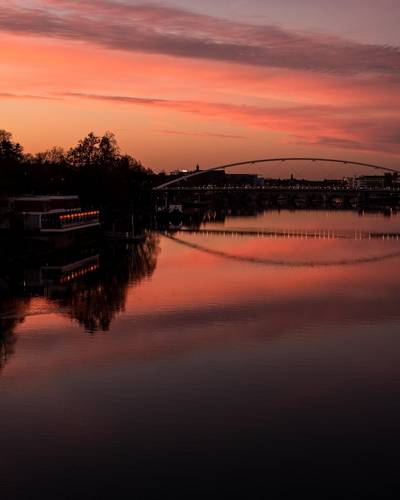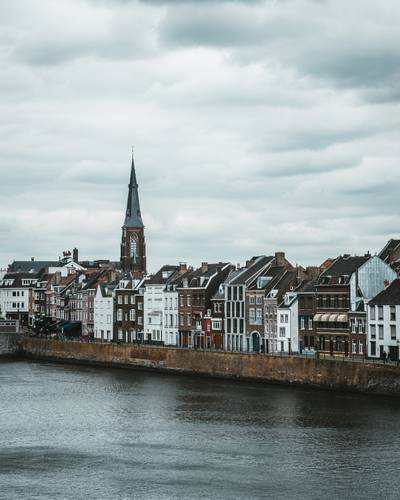 DAY 12 ●
DIJON
Back to France. It's a long drive today. Spend some time in Dijon. Close to some of the world's finest vineyards, Dijon, former capital city of the Dukes of Burgundy, straddles important north - south and east - west communication routes has a remarkable artistic heritage. Visit the Ducal City (Palais des ducs et des Etats de Bourgogne, Musée des Beaux-Arts, ...).
DAY 13 ●
"TAKE ME HOME, COUNTRY ROADS"
No more than a 5 hour drive to drop off your motorhome back at the Avis Car-Away depot. Enjoy the best of your last day
FORMALITIES
Passport or identity card

Driving license (more than 3 years old and be more than 23 years old)
★★★★★
This really was a magical holiday. The travelling was so easy and Holland is such a motorhome friendly country. The Dutch are so welcoming and we absolutely loved our time there. Thank You Avis Car-Away for helping us find this unforgettable holiday and we can not wait to got back. Bedankt!
Reviewed 06th November - Bérénice L.
from 3159*

13 days | 3330 km | 6 pax max.

*except july/august

REQUEST A QUOTE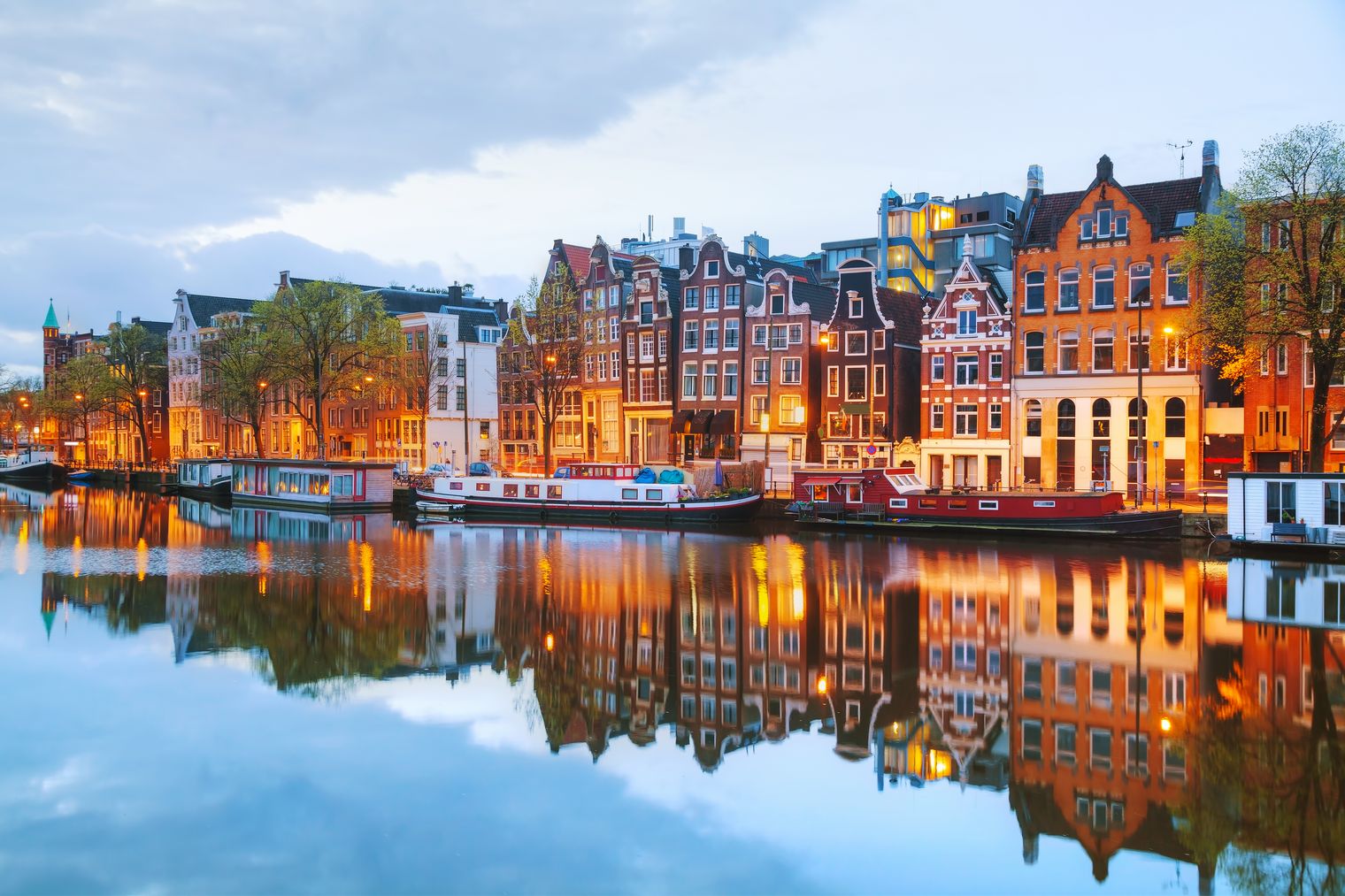 SÉJOUR SUR MESURE EN CAMPING-CAR - 100% PERSONNALISABLE
#LeMOTORHOME