FULLY TAILOR-MADE MOTORHOME HOLIDAY EXPERIENCES - ULTRA-FLEXIBLE MOTORHOME TRIP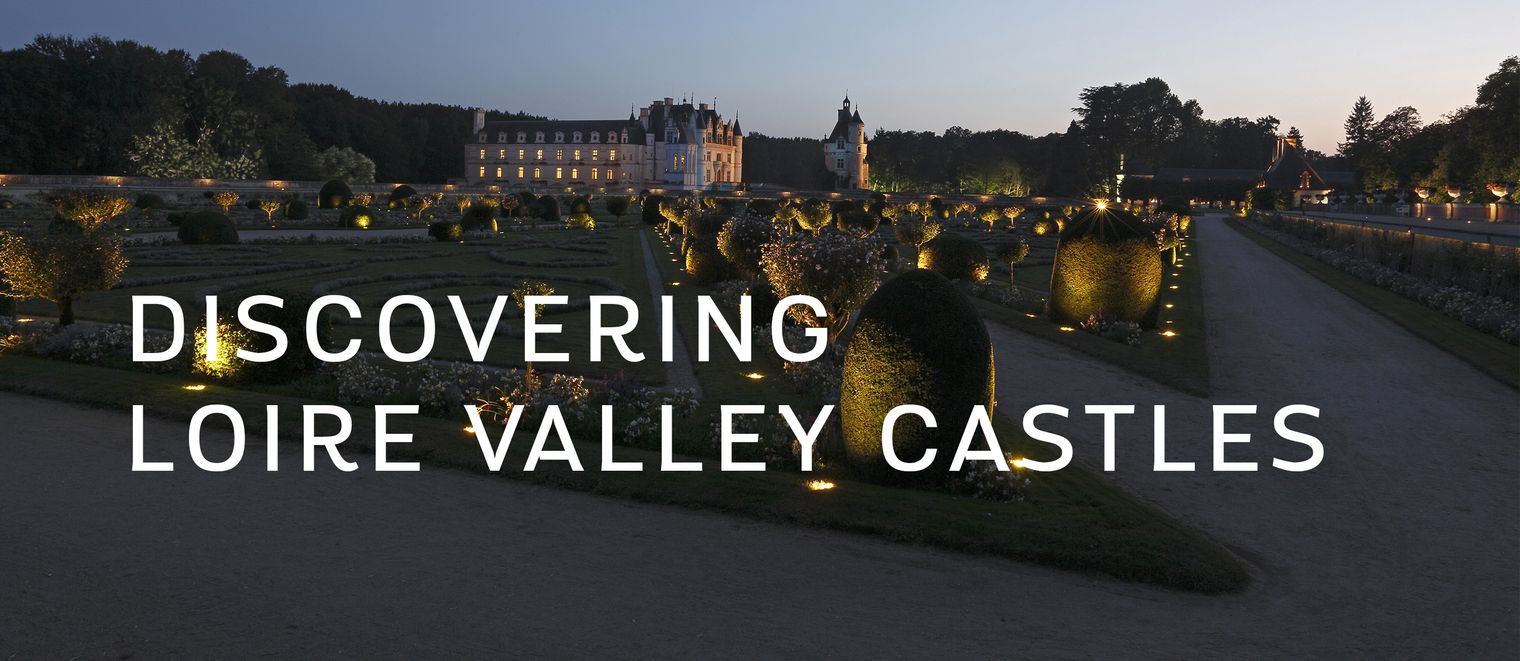 Individual suggested example - 8 days from 999€ depending on season, host locations and activites.
Indulge yourself with a custom made journey by one of our experts with Le MOTORHOME EXPERIENCE. Discover France with Le MOTORHOME EXPERIENCE fully guided holiday, tailored to your needs. Our concept combines the must-see highlights of a destination with unique host locations. We have hand-picked host locations in key destinations to ensure you're comfortable at every stop. Beautiful landscapes, amazing experiences. We'll take you there.
---
Discover majestic architecture, fantastic gardens and hidden treasures during a fascinating journey through breath-taking scenery in the Loire Valley, an area listed as a UNESCO World Heritage site. First of France's classical castles : château de Chambord, castle partly built on a bridge : Chenonceau, Leonardo Da Vinci's Tomb : Amboise, one of most visited zooligical institutions : zooparc de Beauval ... you may offer you an experience like no other with less than 50€ per day. A series of unforgettable experiences awaits you in Loire Valley.

World Best's Family Club. You will spend quality of time with the people you love. Everybody is aboard !
On this tour discover the road to France's History. The Centre Val de Loire region is famous for its magnificent Renaissance castles, which adorn the banks of the Loire tributaries, the Indre and the Cher. On this epic journey you can do it all : hiking, biking, boating, picknicking, walking, exploring and especially discovering.
PRICE INCLUDES :
Motorhome Rental (All Adventure and Classic vehicle groups - upgrades are available - please call for details)
6 Unique host locations
Welcome Kit
Roadbook (Explore your bucket-list)
No additional charge for 2nd driver
Unlimited mileage
Free parking for your car
No additionnal charge for dishes
No additionnal charge for your pet
Not included: Flights, fuel, campground fees, meals, airport transferts, collision damage waiver, cancellation insurance, bedding kit, outdoor table and chairs, bike rack, sightseeing & personal expenses.
Our départure stations :
MOTORHOME ITINERARY :
Remember, we can tailor-make your holiday to suit your needs (duration, departure station, host locations, visits, optional items), contact our travel experts today.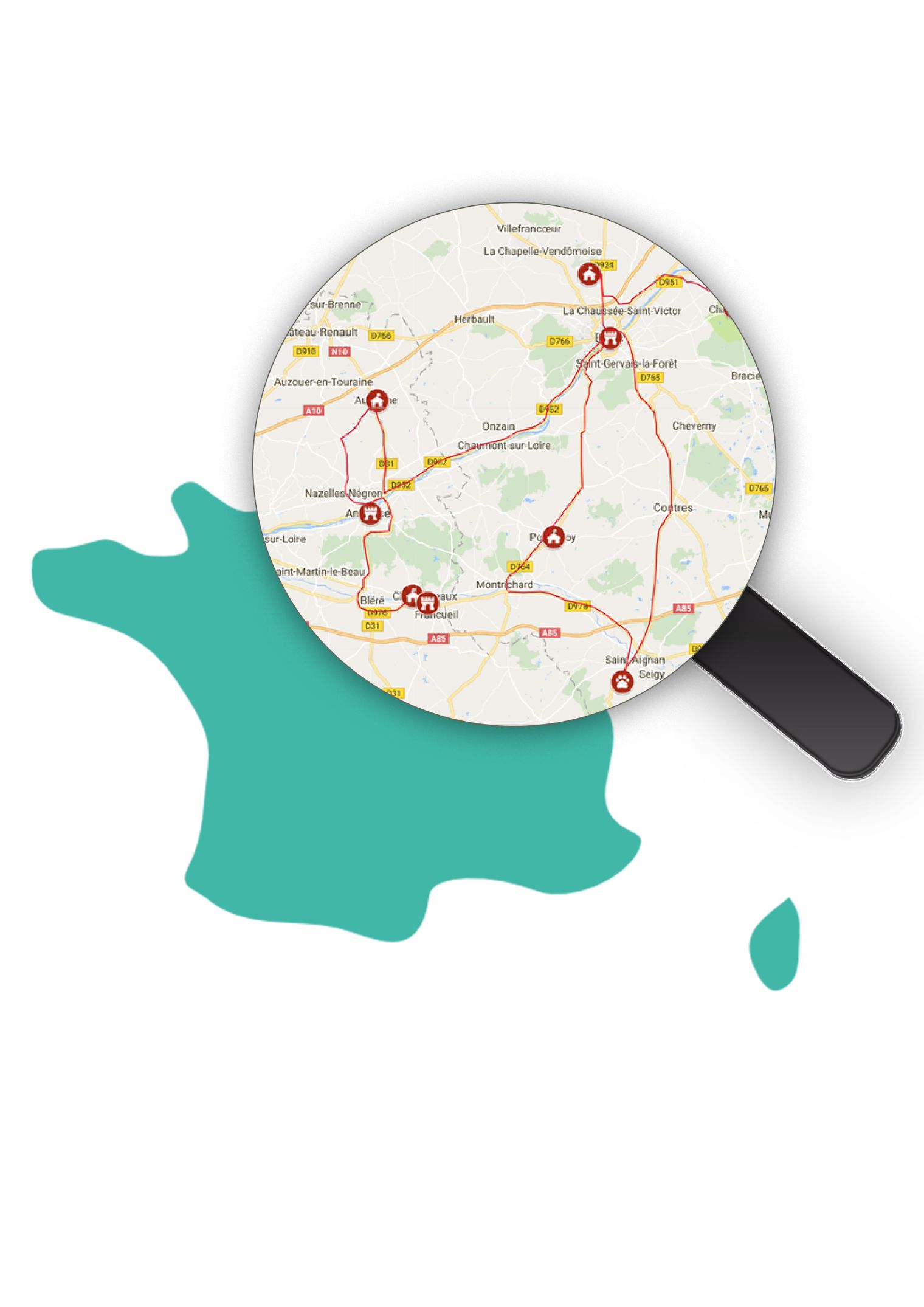 DAY 1 ●
VIERZON
Collect your motorhome from our Lyon depot and begin your journey of discovering the Chateaux of the Loire Valley in Vierzon. Stop by the LucienBeaufrère park or visit the Vierzon Museum.
DAY 2 ●
CHAMBORD - THOURY
Today you are heading to Chambord, which is one of the most recognisable castles in the world. Its very distinctive French Renaissance architecture blends traditional French medieval forms with classical Renaissance structures. Enjoy the beauty of the French formal garden.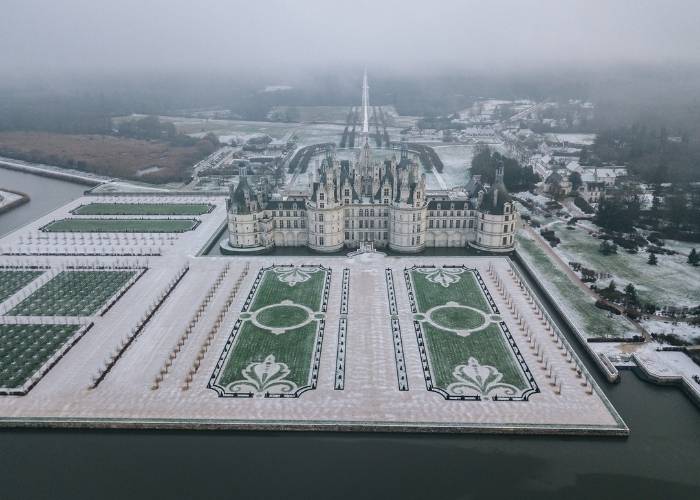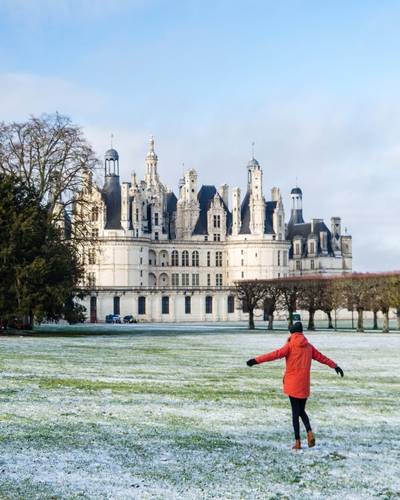 DAY 3 ●
BEAUVAL - PONTLEVOY
A morning on the road to divert up to Beauval is well worth the drive. Rejoin the ZooParc de Beauval. There is so much to see and admire in this glorious Zooligical institution. Yuan Zi and Huan Huan, the two panda stars of the zoo are waiting for you.
DAY 4 ●
BLOIS -
CIVRAY DE TOURAINE
Blois is calling. The royal Château of Blois presents a magnificent panorama of the art and history of the castles of the Loire. Facing the château, you may enjoy visiting the House of Magic in Blois
DAY 5 ●
AMBOISE - AUTRECHE
Today is the day to get up close and personal with the genius Leonardo Da Vinci at Château Royal of Amboise. Just a short distance away from the castle is the Clos Lucé, formerly called le Manoir du Cloux. It's Leonardo da Vinci's last residence.
DAY 6 ●
CHENONCEAUX
The final leg of your adventure will take you to the vibrant city of Chenonceaux. Explore the Château of Chenonceau. It's a jewel of Renaissance architecture built on the site of a fortified mill on the Cher river.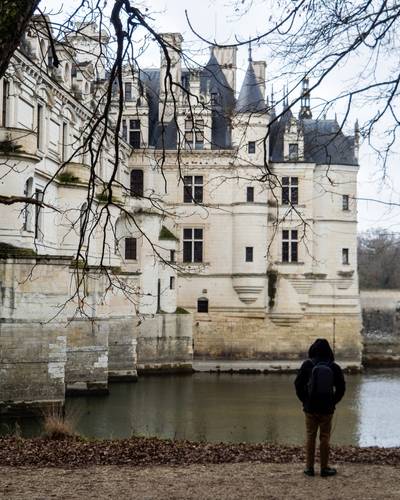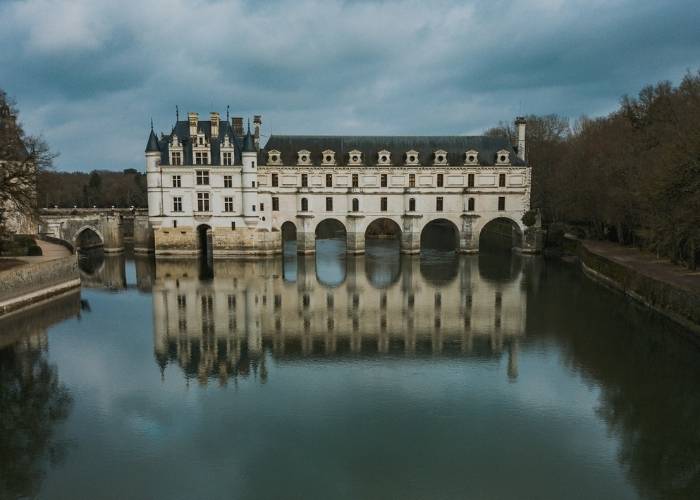 «TAKE ME HOME, COUNTRY ROADS»
No more than a 3 hour drive to drop off your motorhome back at the Avis Car-Away depot. Enjoy the best of your last day.
Va

lid proof

of

identity

(suc

h as P

ass

port

or

National ID)

Pets allowed

Full resident country drivers license (held for a least

3 years)
★★★★★
Experiencing "Discovering Loire Valley Castles" took my breathe away. This memory and many more will stay with me forever.
Excellent holiday and it was all very well organised.
Reviewed 19th March - Tancrède B.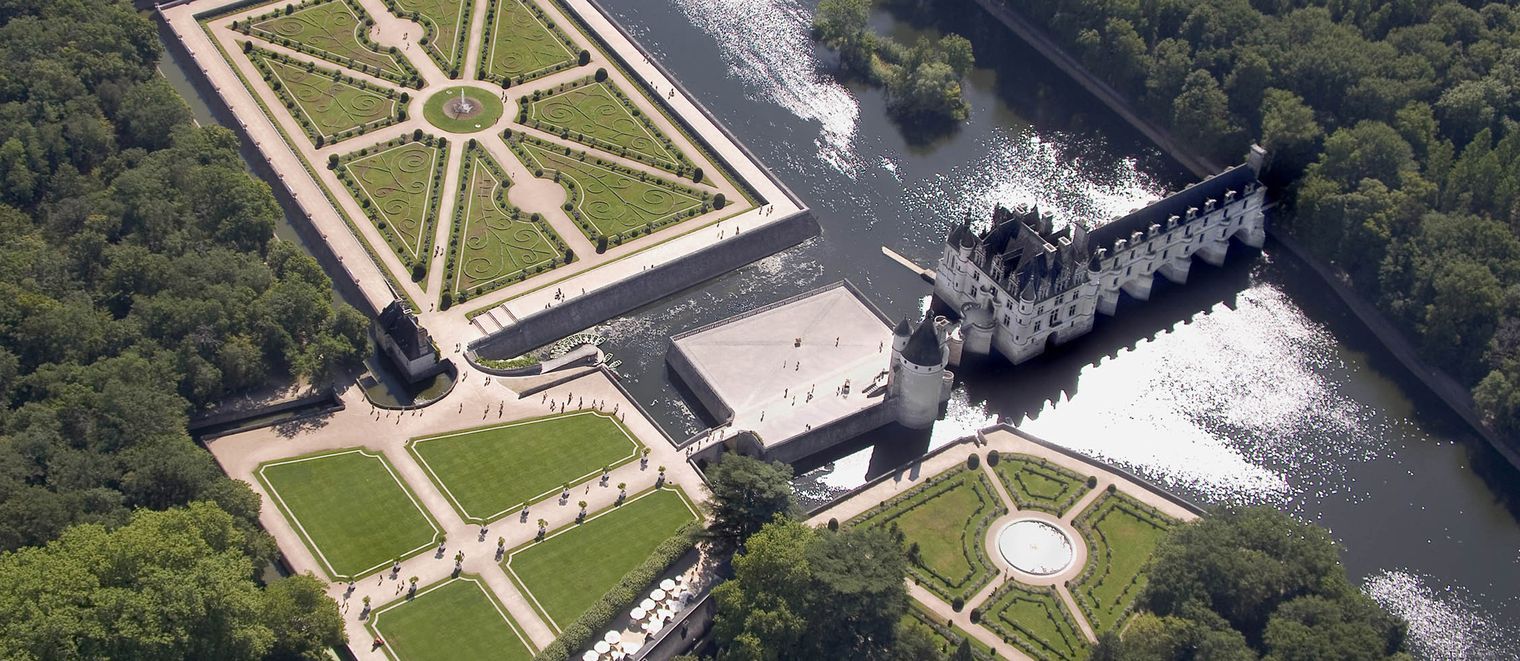 SÉJOUR SUR MESURE EN CAMPING-CAR - 100% PERSONNALISABLE
#LeMOTORHOME
Discover our selection of motorhome travel destinations
It is decided for your next escapade it will be in motorhome but you still hesitate where and especially which route to plan to make your road trip a success. Discover our selection of motorhome travel destinations from our agencies everywhere in France : Aix Marseille, Ajaccio, Basel Mulhouse, Bordeaux, La Roche sur Yon, Lyon, Montpellier, Nantes Rézé, Nice, Paris, Rochefort, Strasbourg, Toulouse